Quality Commitment
We are the first fibre optic cable company in Malaysia certified with ISO 9001 and ISO 14001. Our effort has earned us the recognition as the first company in the fibre optic cable industry certified with these standards by the Malaysia Book of Records.
Over the years, LITE has forged numerous meaningful partnerships with our customers, suppliers and business partners to evolve new products designs, improve existing products and improve manufacturing productivity.
Besides forging vital business links, we also place strong focus on research and development in a never-ending quest to create value for the customers and build a technology base to keep LITE ahead at all times. 
Mechanical & Environmental Test
Mechanical and environmental tests are conducted to demonstrate the capability and performance of optical fibre cables under adverse mechanical and environmental conditions during installation and for long term deployment.
Common Mechanical & Environmental Tests that are performed include: 
Repeated Bending (IEC 60794-1-2-E6)

Compressive Loading (IEC 60794-1-2-E3)

Torsion / Twist (IEC 60794-1-2-E7)

Repeated Impact (IEC 60794-1-2-E4)

Tensile Loading (IEC 60794-1-2-E1)

Temperature Cycling (IEC 60794-1-2-F1)

Bending (IEC 60794-1-2-E11)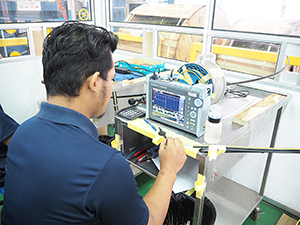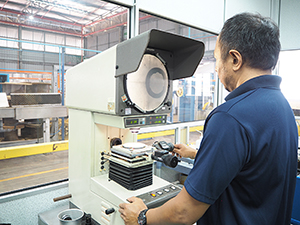 ---
Our Quality Control
There is no compromise on the quality of our products simply because we believe our customers DESERVE only the BEST. All cables are put through the most stringent tests to ensure that only those that meet the highest standards are delivered to our customers
At this stage, highly sophisticated equipment is used to measure and verify the quality of fibres and raw materials. All types of fibre and raw materials are verified and tested in accordance with International Standards, i.e. ITU, ISO, IEC, FOTP and ASTM. Besides that, our stringent raw material qualification programmes and quality plan are established to ensure the best raw materials are being used to manufacture optical fibre cable.
Considering long term performance of the optical fibre cables, routine tests are conducted 100% at every stage of the optical fibre cable process. Optical Time Domain Reflectometer (OTDR) is used to measure attenuation, optical loss, point discontinuity, fibre bending, and signature non-uniformity as required by ITU-T and FOTP. Tested with world class testing equipment, only optical fibre cables that meet or exceed the stringent International Standards will be delivered to our customers.

Certificates