Our Products
LITE's product range consist of stranded loose tube cable which are widely used, but we also manufacture special types of cable such as unitube cable, micro duct cable and drop cable. Besides producing cables, we also provide an extensive range of accessories used in Passive Optical Network (PON) and FTTH deployment.
Optical Fibre Cable
We use the highest grade of commercially available fibres to give our cables the best optical properties. Various types of fibres are available in accordance to ITU-T G651, ITU-T G652 , ITU-T G653, ITU-T G655, ITU-T G656, ITU-T G657 and etc. Our choice of fibres also complies with other standards OM1. OM2 and OM3.
Other than the commonly deployed of underground cables, we also offer overhead cable in standard form of figure-8 type. For special deployment, we have ADSS cable for short to long span application.
For cable deployment with fire protection requirement, we have both OFNR and OFNP rated cable. Our cables are low smoke zero halogen (LSZH) flame retardant to ensure compliance with fire safety requirement.
In addition, our fire protection cable is designed in accordance to IEC332-1 requirement. 

---
Our Accessories
Apart from manufacturing of optical fibre cables, LITE is also a provider of optical fibre related components and equipment for Passive Optical Network (PON) in FTTH applications.
We offer a one-stop installation solution to our customers with a wide range of cable assembly components for indoor and outdoor applications such as fibre termination boxes, fibre distribution panels, closures, connectors, adaptors, pigtails, patch cords and others.
---
FTTH Network Chart
Click to Enlarge Image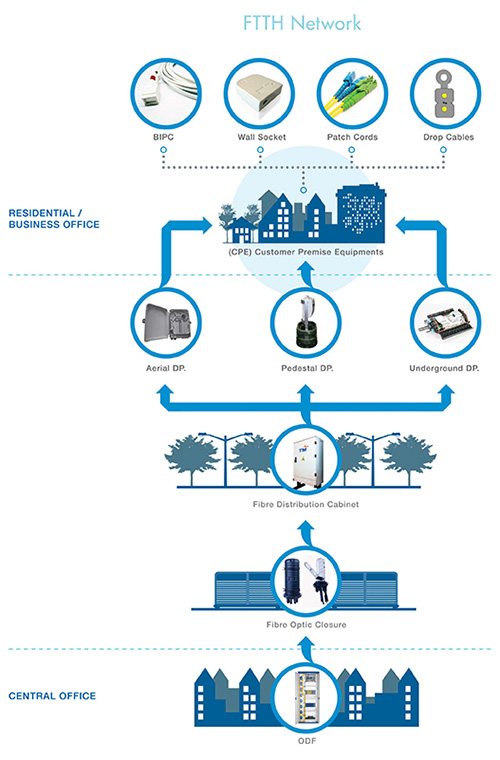 ---